LMS - Spitalfields Series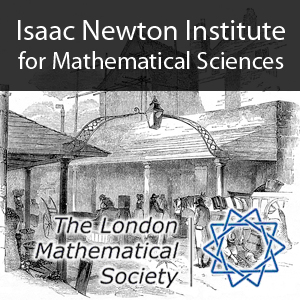 Created:
2007-11-23 14:29
Institution:
Isaac Newton Institute for Mathematical Sciences
Description:
The Isaac Newton Institute in Cambridge, the Mathematics Research Centre in Warwick, the International Centre for Mathematical Sciences in Edinburgh, and, from time to time, other Mathematics Departments, hold long-term meetings or symposia on specialist topics, which are attended by eminent mathematicians from overseas. The London Mathematical Society thinks that it is important for recent developments in these specialist topics to be made known to the general mathematical community, and, in particular, to research students. It therefore provides funds to the organisers of these meetings so that they can provide a day of survey lectures, accessible to a general mathematical audience.

These days are called Spitalfields Days, in honour of the Spitalfields Mathematical Society, a precursor of the London Mathematical Society which flourished from 1717 to 1845.
This collection contains 8 media items.